Get Started With Planndu
This guide will help you manage tasks more efficiently and increase your productivity! Whether you are a busy professional, a student, or simply someone who wants to stay organized, this app is an ideal solution for you. So what are you waiting for? Get started on your journey to maximum productivity with Planndu!
Add A New Task
Navigate to the main screen of the app.
Click the "+" button, located at the bottom.
Enter the task's title and any relevant details.
If needed, divide the task with checkboxes to make it more manageable.
Once you've entered all the necessary information, tap the back button to save the task.



Keep in mind that if the task is left empty, it will be discarded.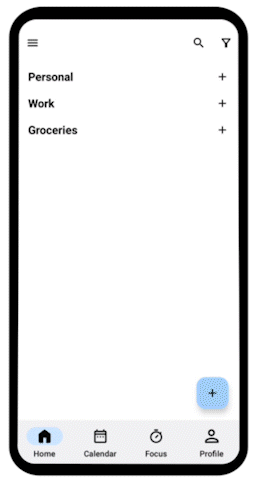 Set Priority & Status
Open the new task screen.
Look for the bottom bar on the right side.
Identify the priority icon located at the bottom bar.
Tap on the priority icon to set the priority of the task.
A bottom sheet will appear with the options: Low, Medium, High, and Critical.
Select the appropriate priority option.
To set the status of the task, tap on the status icon located at the bottom bar.
A bottom sheet will appear with the options: To-Do, In Progress, and Done.
Select the appropriate status option.



Once you have selected a priority or status, it will appear above the task title for your reference.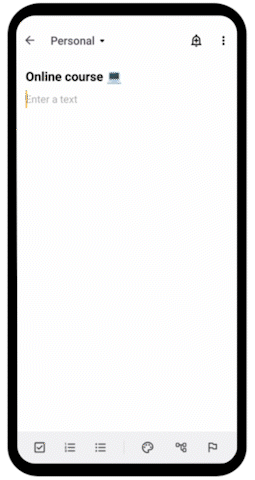 Set Reminders
Open the new task screen, or an existing task.
Look for the reminder icon located on the top bar.
Tap on the reminder icon to open the reminder options.
A bottom sheet will pop up, offering options for the date, time, and repeat.
Choose the appropriate options for your task reminder.
If you"ll see a permission alert, allow it to get notified when it's time.
Note:
The repeat feature is available exclusively for premium users, and it allows for daily, weekly, monthly, and yearly reminders.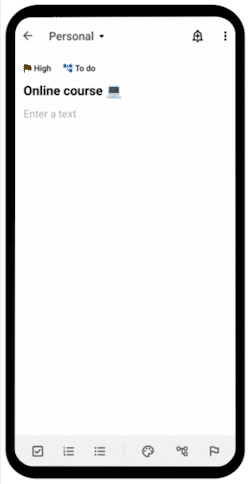 Start Focus
Navigate to the "Focus" screen located at the bottom menu.
Above the timer, you will see "Choose an item", Click on it to open a list of available tasks.
Select the task you want to focus on from the list.
After selecting the task, you can customize your focus settings by tapping on the timer.
Adjust the timer to create your own work session, depending on how long you want to focus.
To enable background noise, tap on the sound icon located on the top bar.
Choose a sound that works for you and your focus needs.
Tip:
You can simplify the process of starting a focus session by attaching tasks to the focus screen directly from the new task screen. To do this, tap on the task options and select "start focus".